Simpsonville's Furnished Apartments
Short-term Housing for your temporary relocation!
Simpsonville, SC is one of those areas where you can get more house for less money. The same is true for apartments, which is what makes this South Carolina suburb perfect for short-term relocations. Corporate Connection is your link to the fully furnished apartments that Simpsonville has to offer.
Our furnished apartments are for anyone in need of short-term housing—individuals and companies alike—but we do partner with major employers such as Michelin and Fluor to help make transitions easier for professionals looking for corporate apartments.
During your short-term stay in Simpsonville, you'll have everything you need, including:
All utilities
Expanded cable
Wireless internet
Upscale furniture
Pictures and accessories
Housewares and linens
Two TVs with stands
DVD player
Microwave
Full-size washer and dryer
At Corporate Connection, we don't believe in "partially furnished" or even just "furnished." Our short-term apartments in Simpsonville are fully furnished so that your experience is everything it should be.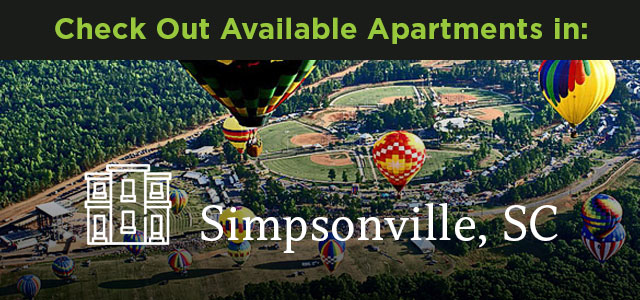 Welcome to Simpsonville
Your temporary apartment is move-in-ready!
Forget the moving truck. Corporate Connection's fully furnished apartments are move-in-ready. And it gets even better. Our relocation experts will find you a short-term housing solution that offers easy commutes to work, the home you're renovating, the house you're trying to sell, or wherever you need to be. Simply put, we're committed to making your relocation a smooth ride.
Contact us today to find out what furnished apartments we're leasing in Simpsonville, SC. Our partnership with Simpsonville's top apartment properties allows us to guarantee flexible lease terms (30-day minimum), an easy reservation process, and direct billing each month. What are you waiting for? Call us at (864) 627-4002, and let's find your next apartment!