Furnished Apartments in Easley, SC
Short-term housing has never been easier!
Located just up the road from Greenville's downtown area, Easley, SC is the ideal place to spend a short-term relocation. Corporate Connection offers furnished apartments at a competitive price in Easley's most coveted areas.
Our furnished apartments are for anyone in need of short-term housing—individuals and companies alike—but we are proud to partner with many of the Upstate's major employers. These partnerships allow us to simplify transitions for professionals who need corporate apartments.
At Corporate Connection, we don't do "partially furnished." Fully furnished is how we outfit our short-term apartment homes in Easley, and that's because we want our customers' experiences to be fully satisfied.
Here's a peek of at what all of our fully furnished apartments in Easley include:
All utilities
Expanded cable
Wireless internet
Upscale furniture
Pictures and accessories
Housewares and linens
Two TVs with stands
DVD player
Microwave
Full-size washer and dryer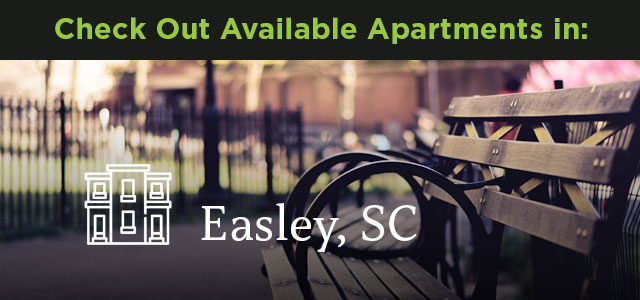 Welcome to Easley. Stay Awhile…
Your furnished apartment is here for as long as you need it.
Corporate Connection's relocation specialists understand that temporary relocations can be unpredictable at times, and that's why our fully furnished apartments come with flexible lease terms. You can focus on your relocation without worrying about being locked into a lease that's too long or not long enough.
Contact us today to find out what furnished apartments we have available in Easley, SC. Our partnership with Easley's best apartment properties allows us to guarantee flexible lease terms (30-day minimum), an easy reservation process, and direct billing each month. What are you waiting for? Call us at (864) 627-4002, and let's get you moved in!