Furnished Apartments in Mauldin, SC
Short-term housing should be simple.
For people navigating a temporary relocation to Mauldin, SC, furnished apartments are the most logical home away from home. Corporate Connection offers furnished apartments in Mauldin at a price that's cheaper per day than a hotel.
Our furnished apartments are for anyone in need of short-term housing—individuals and companies alike. Our partnerships with many of the Upstate's major employers allows us to streamline the process for corporate relocations in Mauldin.
At Corporate Connection, when we say "fully furnished," we mean it. Our fully furnished apartments in Mauldin offer far more than you'd get at an extended stay hotel and everything you need for a comfortable short-term home.
Expect these amenities when you rent a furnished apartment in Mauldin:
All utilities
Expanded cable
Wireless internet
Upscale furniture
Pictures and accessories
Housewares and linens
Two TVs with stands
DVD player
Microwave
Full-size washer and dryer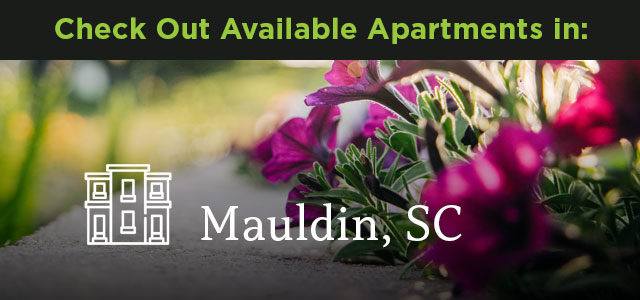 Moving to Mauldin indefinitely?
Lease your furnished apartment for as long as you need it.
Corporate Connection's relocation specialists understand that temporary relocations can be unpredictable at times, and that's why our fully furnished apartments come with flexible lease terms. You can focus on your relocation without worrying about being locked into a lease that's too long or not long enough.
Contact us today to find out what furnished apartments we have available in Mauldin, SC. Our partnership with Mauldin's best apartment properties allows us to guarantee flexible lease terms (30-day minimum), an easy reservation process, and direct billing each month. What are you waiting for? Call us at (864) 627-4002, and let's get you moved in!